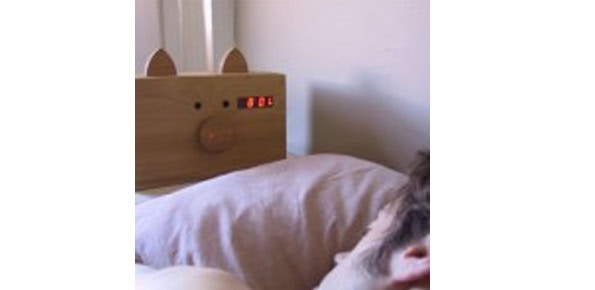 Quite possibly the best invention since whatever came before sliced bread, the Wake'n Bacon alarm clock is a work of pure genius. The shape of the device is modeled after pre-bacon and the concept is so simple I can't believe it's not already in mass production. You simply place a piece of pre-cooked bacon in the alarm clock when you go to sleep and set the clock. 10 minutes before you're wake-up time the clock starts cooking your bacon and you are awakened to the smell of bacony goodness. What could get the day started off any better?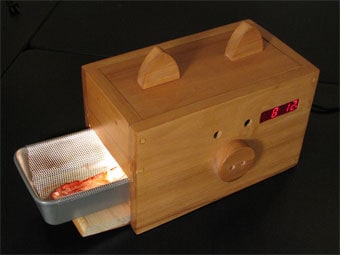 We're definitely not the first to report on the bacon alarm clock, and will certainly not be the last. It's already been featured on such sites as: Wired, American Public Media's "Splendid Table", Engadget, Ubergizmo, Gear Live, Design Boom, and many more.
Wake'n Bacon Alarm Clock on the Shark Tank TV Show
The actual prototype alarm clock we originally wrote about here way back in 2008, the one that cooks (actually re-heats) bacon called "Wake N' Bacon", was pitched by inventor Matty Sallin on the second season of the Shark Tank TV show in 2011. His pitch was simple — the alarm clock would heat up pre-cooked bacon 10 minutes before the set wake-up time, filling the room with the delicious aroma of bacon.
Sallin asked the Sharks for $40,000 in exchange for 20% of his company, but none of the Sharks were interested in investing in the Wake N' Bacon alarm clock. Kevin, Barbara, Robert, and Daymond went out quick. Kevin even went so far as to speculate that the Wake'n Bacon Alarm Clock might burn a house down, then he offered Matty $100 for the prototype and raised his offer to $300 before Matty left the stage.
Matty thankfully did not sell the prototype to Kevin, keeping the legacy of the Wake'n Bacon Alarm Clock alive. Mark Cuban was the most interested shark, but said that Matty's pitch did not ask for nearly the amount of money he'd need to get it into production and based on that Mark bowed out as well, leaving Matty Sallin without an offer to mass-produce the bacon-cooking alarm clock.
After appearing on Shark Tank, Sallin was unable to find a manufacturer for the Wake N' Bacon alarm clock. The product never went into production, and Sallin has moved on to other projects.
According to his resumé, Sallin has been working as a full-stack developer for much of his career and continues in that profession at the time of this article's latest update.
While the Wake N' Bacon alarm clock never became a reality, it remains one of the most memorable products ever pitched on Shark Tank. Watch the entire alarm clock that cooks bacon pitch in this video from CNBC:
Another Bacon Alarm Clock?
Just when you thought that the idea of technology allowing waking up to the sweet smell of bacon was never to be a mass-produced reality, along came SensorWake alarm clock. This little gem of a device used scent pods that were activated on a timer and of course, one of those pods was a simulated bacon scent.
While that product is now discontinued, and our experience with bacon scents is certainly a mixed bag of success, it gives us a glimmer of hope that one day some genius mad scientist type of person will capture the magical smell of bacon in synthetic form to allow us all to safely wake up to the sweet scent of sizzling bacon each and every morning.
---
To see the original article from "mathlete" Matty Sallin go to: https://www.mathlete.com/wake-n-bacon
---
via:
devnulled — thanks!