Los Angeles is home to a lot of amazing hidden gems. With an abundance of culture, thriving businesses, and a multitude of different genres of entertainment; there really is something for everyone.
Food is also no small player in this town of varying aesthetics and flavor cornucopia. What may seem like a spread out town of smog and indifferent people to outsiders, hidden within the depths of this city are some amazing finds. Especially great food finds.
Yes, this city has Hollywood influences splashed across its forefront. But that's the magic of it all! This city exudes quite the essence of glamour, sex appeal, and the risqué. Things that bacon is all about.
For those of you who would disagree with bacon being glamorous and sexy should stop reading now… Still here? Perfect!
Where is The Edison Restaurant
Speaking of glamour and sex appeal; Los Angeles is home to The Edison, a post-industrial steampunk-styled nightclub and restaurant.
Residing in Los Angeles's very first privately owned power plant, The Edison is located in the basement of the historic Higgins Building. In 2010, they celebrated its 100th Anniversary.
This historical landmark turned nightlife establishment adequately achieves a glamorously arousing aesthetic with its architectural details and lighting. Taking cues from the more fun-loving part of the prohibition era, it embodies an image of a sophisticated speakeasy from the industrial revolution.
Dining at The Edison
The Edison currently delivers some amazingly delicious food (yes, bacon!), superb handcrafted signature cocktails, and houses an accommodating and extremely congenial staff. Basically, this place is fancy and really awesome.
Bacon Today had the pleasure of visiting The Edison to taste its delicious bacon and pork dishes. We were whisked down a set of stairs, submerged into soft lighting mixed with the sounds of glasses tinkling, intermittent laughter, and the setup of a burlesque band.
We were taken to the Generator room to our dining table. Projected images of a surreal black and white industrial film played on the wall behind the table. Large dark, plush leather couches rimmed our dining area.
Drinks at The Edison
After being seated by the Director of Operations, Jeffrey Davis, we were greeted by bar manager and "liquid courage" genius, John Maraffi. He brought us his delicious drink creation, the Happy Herbie.
This happy drink is derived from the legendary Disney Imagineer, Herbert "Herbie" Ryman, who helped Walt Disney's visions come to life with his illustrative talent. A portion of the proceeds from this cocktail benefit the Ryman Foundation: a foundation that teaches classical drawing and painting to talented and motivated high school students.
Who knew a cocktail could help benefit young artists? We were quite impressed with the Edison's ingenuity and desire to efficiently cultivate artistic talent.
First Food: Maple Bacon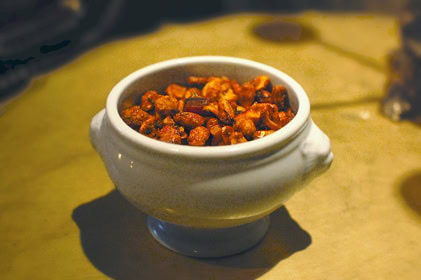 As we sipped upon this delicious cocktail, we prepared ourselves for the delicious food that followed. Executive Chef Russell Saito personally brought out the delicious pork-tastic dishes. The first one on our menu was the Bacon-Maple Beer Nuts: Spanish Peanuts candied in a Bacon-Maple-Rosemary crackle.
These nuts were deliciously addicting and if it weren't for the following dishes, they probably would have gotten devoured.
The next player up was the Bacon & Eggs. Deviled Eggs with Applewood Smoked Bacon and Jalapeno. Three bacon and egg beauties on a bed of fried onions. Another successful taste bud party.
The Chicken & Waffles arrived after. These classic fried, boneless chicken breasts were made with a roasted corn and red bell pepper succotash, candied maple syrup, and bacon waffles. Yep, those fluffy waffles had bacon inside. Pure awesomeness.
The Edison efficiently turned a classic comfort food into one of originality, beauty, and class. Even more points to The Edison. We see what you did there.
As if we weren't already full, Chef Russell continued to bring out some extremely tasty dishes. We assumed that he wanted us to leave fat and happy and we were completely okay with that. He brought out the Soy Braised Pork Belly Flatbread. It was pork belly with Thai basil, smoked gouda, pickled curried onions, all smothered in a Hoisin tomato sauce. A combination of sweet and spicy and completely delicious.
The Boiler Room arrived shortly after. Two sliders of slow braised pulled pork sandwiches with crispy shoestring onions, roasted garlic aioli, and creamy slaw. We weren't able to finish these but not because they weren't delicious. After the abundance of scrumptious food; we had reached our limit. It was time to venture off and watch the burlesque band and dancers.
With high quality entertainment, delicious drinks, and a surrounding of beautiful detail and sexy ambience; it's not hard to see why the Edison is such a popular nightlife hangout.
They do have a fairly strict dress code, but of course they want to keep their establishment classy. To show up in attire that is less than this elegant and edgy décor would just be disrespectful. And no one wants to disrespect bacon.
Bacon Today gives The Edison's bacon dishes a stamp of approval. We highly recommend a visit to The Edison if you're looking for delicious high quality food, a superior staff; a unique and thoroughly appealing ambiance, and amazing drinks and entertainment.
For a big night of class and fun, or if you want to impress a date; The Edison will go beyond your highest expectations. Don't forget to tell them that Bacon Today sent you. *Wink, wink.
Check out The Edison's calendar of events and awesome menu
A special thank you to Barbara Jacobs (Chief Operating Officer), Jeffrey Davis (Director of Operations), Russel Saito (Executive Chef), and John Maraffi (Bar Manager). You all are awesome!