July 8, 2015 3:33 am
Leave your thoughts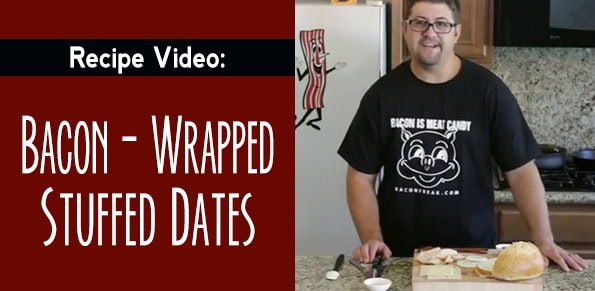 Recipe Video: How To Make Bacon Wrapped Dates
In this video, Bacon Freak CEO Rocco Loosbrock shows you how to make the classic bacon appetizer: bacon-wrapped dates. We stuff them with blue cheese and cream cheese mixture, then wrap them in thick-cut bacon. Bacon-wrapped dates are a definite people pleaser, so if you're making them for a party, be sure to make a ton! They will go quickly, especially considering you will eat a handful yourself. The sweetness of the dates perfectly complements the tangy cheese and salty bacon. Feel free to substitute other creamy cheeses.
Ingredients:
1 lb. thick-cut bacon, cut in half
20-24 pitted, large medjool dates
4 oz. cream cheese
4 oz. blue cheese
Directions:
1.  Preheat the oven to 375° F (190° C).
2.  Slice dates in half, and open them up. Pinch off pieces of blue cheese, and place them into the center of the dates. Close the halves of the dates, and wrap a half-slice of bacon around the outside. Secure each one with a toothpick. Arrange in a baking dish or on a baking sheet with sides to catch any grease.
3.  Bake for 30 to 40 minutes in the preheated oven, or until the bacon is crisp. Turn dates over after the first 20 minutes for even cooking.
Categorized in: Bacon Recipes, Bacon Videos