June 3, 2015 3:33 am
Leave your thoughts
Recipe Video: How to Deep Fry Bacon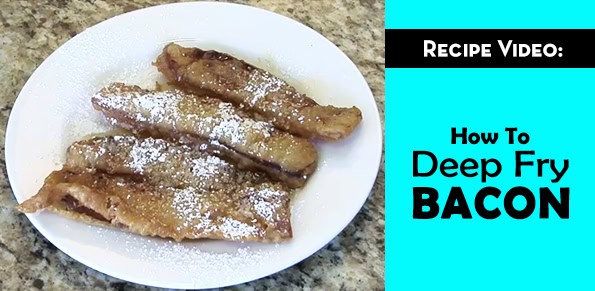 Chicken fried… bacon? Yes, that is a thing and Bacon Freak CEO Rocco "Boss Hog" Loosbrock is gonna show you how it's done. The key to successful deep-fried bacon is to buy thick-cut bacon! That skimpy stuff from the grocery store ain't gonna cut it. So find the thickest sliced bacon you can get your hooves on. All you need to chicken fry bacon is egg, milk, flour, oil and your favorite spices. Gather up these ingredients and get ready to have your mind blown by the deep-fried bacon goodness!
1 lb. thick sliced bacon, cut in half
1 egg
1/2 cup milk
1/2 cup flour
spices (optional)
oil
1. Heat oil in a frying pan over med-high heat.
2. Whisk egg and milk together in a bowl.
3. Place flour in another bowl. Add desired seasonings like salt, pepper, cajun spice, etc.
4. Double dip each strip, first in the egg mixture, then in the flour and repeat.
5. Fry in oil until golden brown.
Categorized in: Bacon Videos, Featured