November 8, 2015 3:45 pm
Leave your thoughts
Jump to recipe
Paleo Bacon Wrapped Meatloaf
The paleo diet is extremely popular right now. If you haven't heard of it, we're not sure what rock you've been living under, but in a nutshell, the paleo diet consists primarily of meat, vegetables, fruit and fats like coconut oil and avocados. Bacon is definitely okay on the paleo diet, which is where this bacon-wrapped meatloaf recipe enters the picture. Simply switch out your regular "filler" of bread crumbs for some almond flour, and this recipe is very similar to "grandma's" meatloaf recipe. If you're considering the paleo diet, this is a great recipe to start with! This recipe is from Crossfitcrowntown.wordpress.com.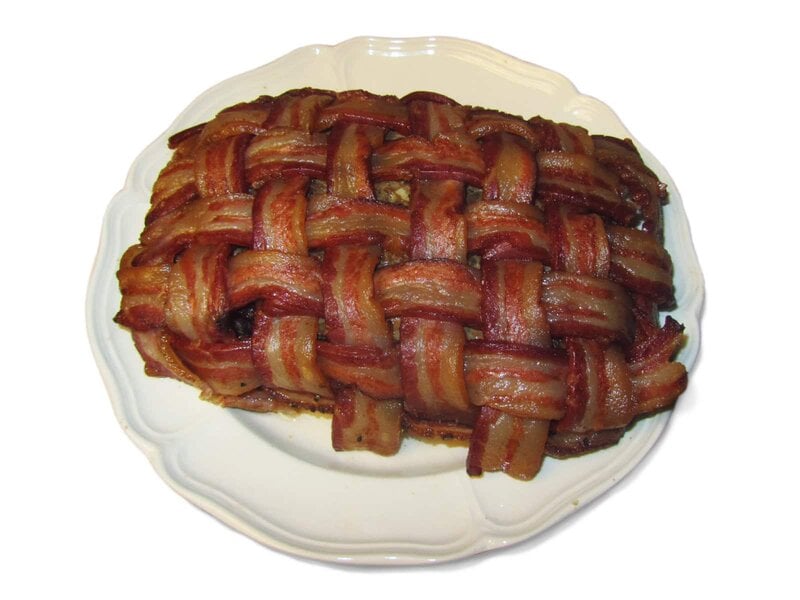 Ingredients
2 packs Applewood-smoked  *bacon*
1 cup diced onion
2 lbs of grass-fed ground beef
1 cup almond meal
2 eggs
1 can tomato paste (organic)
1 tbsp crushed garlic
2 tbsp fresh basil
1 tsp marjoram
cracked black pepper to taste
Instructions
Mix all ingredients in a food processor or by hand in a large mixing bowl. Place meat mixture into a large bread pan or a glass baking pan and form into a loaf.  Bake at 350 degrees for 1 hour or until meat is no longer pink in the middle.
Take 2 packets of Applewood Smoked Bacon and in an overlapping pattern wrap the bacon around the loaf shaped mixture.  First wrap in parchment paper then wrap in foil.  Place on baking sheet into oven for the suggested time of 1 hour at 350 degrees.
After the 1 hour remove the foil and parchment paper and continue to cook the meatloaf untill the bacon is nice and brown.  I continued to cook another 25 minutes or so.
Categorized in: Bacon Recipes