November 16, 2015 3:33 am
Leave your thoughts
National Fast Food Day for Bacon Fans
Today is National Fast Food Day! It's the perfect excuse to grab fast food for your breakfast, lunch or dinner. Fast food restaurants have really jumped on the bacon bandwagon and it seems like the new debut of some baconified burger is happening more and more often. With restaurants like McDonald's and Jack in the Box stepping up their game to offer more "gourmet" burgers, the variety and quality of menu items is quite impressive. So chow down on National Fast Food Day at one (or more) of these restaurants. Here's a breakdown of your best baconified options and where to get 'em.
Carl's Jr.
The 1/2 Lb. Super Bacon Thickburger is Carl's Jr's meatiest, baconiest offering. It has 1/2 lb. patty and 4 strips of bacon. Another solid option is the Mile High Bacon Thickburger.
Wendy's
The Baconator is Wendy's ultimate bacon burger. It boasts thick-cut Applewood Smoked Bacon, two 1/4 lb. patties and even more bacon for a grand total of six fresh-cooked, never microwaved strips.
Jack in the Box
The Bacon & Swiss Buttery Jack is J in the B's attempt at a more upscale burger. We've tried it; we like it. It has a juicy 1/4 lb. beef patty topped with melted garlic herb butter, layered with strips of hickory smoked bacon and Swiss cheese, with creamy bacon mayo on a gourmet bun. Since JITB offers breakfast all day, also consider their new Jalapeño Bacon Breakfast Burrito. It has hickory smoked bacon, scrambled eggs, pepper jack cheese, hash browns, jalapeños, and smoky chipotle sauce in a flour tortilla.
Arby's
Have you tried Arby's Brown Sugar Bacon Sandwich yet? Here's your opportunity! The Brown Sugar Bacon BLT features three strips of brown sugar bacon plus three strips of pepper bacon, tomatoes, lettuce, and mayo on a King's Hawaiian bun.
McDonald's
The Bacon Clubhouse Burger is McDonald's upgraded bacon burger, served on an artisan roll. It has Applewood smoked bacon, caramelized grilled onions, white cheddar, crisp leaf lettuce and fresh tomato, all lovingly layered on a quarter pound of 100% beef, then topped with Big Mac special sauce.
Wienerschnitzel
Fast food isn't limited to burger joints. If you're craving der wieners, head to der Wienerschnitzel! They've got 5 different hot dogs that come with bacon! Read our review of all these hot dogs here.
Sonic
Want a burger AND a hot dog on National Fast Food Day? Sonic Drive-In is where to go. Order a SuperSONIC Bacon Double Cheeseburger and a Cheesy Bacon Pretzel Dog and you're good to go.
Whataburger
If you're looking for something a little different, Whataburger is serving up the Avocado Bacon Burger. A 100% pure beef patty with crispy bacon, fresh avocado, onions, tomatoes, American cheese and creamy pepper sauce piled up on Texas Toast.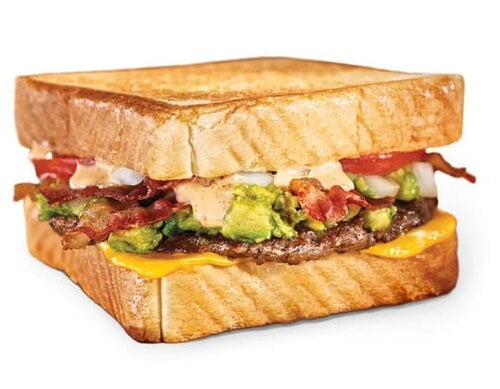 Categorized in: Bacon News, Featured