Inspired by our trip to The Edison in Los Angeles, we created our own take on the candied nuts and bacon finger food served in their funky, steampunk-inspired restaurant.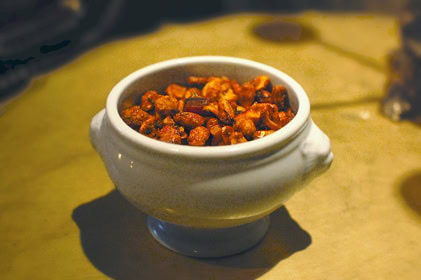 It's an appetizer, it's a dessert, it's just plain addictive. Trust us, you've got to try this for yourself.
How does it taste?
OMG, this is pretty much the perfect combination of sweet, salty, and crunchy. No matter if we serve this at our own party, or bring to a pot luck event at a friend's house, we never have any left over to bring home.
Everyone takes at least a handful. Most folks grab a small bowl for themselves. Because it's so popular we usually double or triple up the recipe if there are more than a few people at the event.
The last time we went to a get-together, so many people asked us for the recipe we decided we'd better share it with the world here at Bacon Today.
Recipe for candied bacon & nuts mix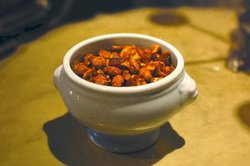 Maple Bacon Candied Nuts
A great sweet & salty snack for any gathering.
Ingredients
Candied Bacon
7

slices

Center Cut Bacon

(less fatty style)

1/4

cup

Brown Sugar

1/4

tsp

Cayenne Pepper

1/2

tsp

Paprika

Salt & Pepper to taste
Candied Nuts
1

cup

Pecans

1

cup

Peanuts

1/4

cup

Brown Sugar

1/4

tsp

Black Pepper

1/8

tsp

Cayenne Pepper

1/2

tsp

Paprika

3

tbsp

Maple Syrup
Instructions
Place parchment paper on a baking sheet.

Cut the raw bacon into small pieces, roughly 1/4" each.

Add the bacon and remaining Candied Bacon ingredients into a bowl and mix well.

Spread the coated bacon on your parchment paper-lined baking sheet and bake for 10 mins (the sugar will bubble a bit and the bacon will be starting to brown).

While that's cooking, combine the ingredients for the Candied Nuts in a separate bowl and mix together.

Take the bacon out of the oven, add to the nut mixture, and mix everything together.

Line your baking sheet with a new piece of parchment paper, and spread out your entire Candied Bacon & Nuts mixture on the tray.

Bake for another 15 minutes (you may need to stir the mix around the 10-minute mark depending on your oven).

Remove the baking sheet and allow to cool for 15-20 minutes.

Put the entire mix into an airtight container, breaking apart any large chunks that stuck together when baking.

Store in the refrigerator (if you haven't eaten it all in one sitting).
How long does it last?
Because this is such a popular recipe, we've never seen this candied bacon & nuts mix last more than a few days in the fridge. I'd guess you wouldn't want to keep it any more than a week though, because the bacon would get old and the candied items would likely get hard as a rock the longer you leave it sit.