September 1, 2010 5:00 am
1 Comment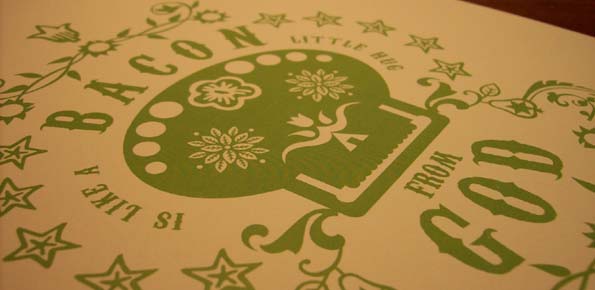 In our continual effort to always keep our readers at the very cutting edge and vanguard forefront of the gourmet bacon world, we here at Bacon Today like to sit down and get the latest and greatest news directly from the horse's … or should we say … pig's mouth!
Today … Bacon Today is extremely excited to be chatting with Mr. Nicodemus Green who is the brains and designer behind that totally awesome and increasingly popular "Bacon Is Like A Little Hug From God" graphic that is taking the entire bacon world by storm lately.
BT: Nicodemus, welcome Sir. Thank you for agreeing to take a little time out of your very busy schedule to have a chat with us about the design that is being proudly worn on the chests of more and more "Baconistas," male and female, all across the country.
NG: Thanks, it's a pleasure to get to talk to you and all of your fabulous readers today. I love Bacon Today!
BT: So where do you originally hail from and where are you currently located now?
NG: I was born in southeast Michigan, and raised in the small town of Defiance, Ohio. I spent most of my adult life in Chicago, San Francisco, Los Angeles and Austin, Texas. I currently live in Ann Arbor, Michigan. It's a very cool, laid back little city with a great food and art scene.
BT: OK, so the Bacon World wants to know … are you a true, legitimate "Bacon Freak" or was it purely a business decision to step up and fill a void amidst the current rising tide of "Baco-Mania?"
NG: Honestly? A little bit of both. I'm a total "foodie," I love bacon, and I love art and graphic design, so it just felt natural to me to bring those things together in some way. I just wasn't really sure how receptive people would be to my design.
BT: That makes perfect sense! So how in the world did your life journey end up placing you in the position of suddenly designing one of the most popular "bacon oriented" t-shirt designs out there?
NG: Ha! Is that true? I hadn't realized it's one of the most popular "bacon oriented" t-shirt designs, but thanks for kudos!
The design wasn't something that I ever planned on showing anybody. During my time in Austin, I discovered my love of all things "Day of the Dead," so I knew I wanted to incorporate that imagery into the design.
I was a bit bored one cold, dark January afternoon in Michigan, and I just sat down with my laptop … and about 4 hours later, I had the design pretty much finished. I'm not sure where it came from really, it just sort of evolved on its own.
BT: That's so cool! Alright, you mentioned earlier that there's an interesting story about how your previous gig at Trader Joe's ended up playing a positive role in your coming up for the idea for the t-shirt motto?
NG: Actually, the phrase "Bacon is like a little hug from God" was born one morning while I was "scarfing down" some bacon during a morning shift at Trader Joe's back when I used to work there.
Sunday morning shifts typically start at 4am in order to receive shipments, stock, and clean the store before opening at 9am. Usually, as a reward for loyally showing up early, management would cook us an elaborate breakfast with items from the store and often that included BACON!
I remember sitting on the floor of the store eating bacon with my coworkers and we were all mesmerized by how delicious the bacon was … and the phrase just kind of popped into my head for no apparent reason. It was so catchy and funny; I just knew I had to get it out there somehow.
This was during the whole "bacon craze" of late 2008 and I thought the "foodie" world would be receptive to some kind of artwork featuring that phrase. So I played around with several designs until I finalized the design now on Bacon Freak.
BT: Awesome. OK …I did a little investigating around and discovered that this design of yours is not just loved and adored by the "Bacon World" at large, but actually has quite the following on the contemporary art scene as well. What can you tell us about that very interesting "cross over" success?
NG: It started when I emailed Grace Bonney of "Design Sponge," which is a very popular design blog that I read everyday, hoping she would feature the print version of the design. She did, and it was a hit.
As an entirely self-taught graphic designer, I was so flattered that such design-minded folks, not to mention professional designers and food people, actually got the joke and liked my work. One thing led to another and now here we are today, talking about it over a couple of glasses of iced lemon water.
BT: Wow … that is so cool! Alright, I would be absolutely amiss if I allowed this session to come to an end without finding out "WHAT'S NEXT" for Nicodemus Green – Bacon Celebrity?
NG: Ah, great question! Well, due to the huge number of requests I've received over the last year, I've just started researching things like organic fabric tea towels, and letter pressed greeting cards featuring the design.
I even had a gentleman from Australia request laptop decals! BTW, I do have the design available on cotton canvas shopping bags through Cafe Press I would LOVE to work with a larger company designing kitchen-ware, wallpaper and fabrics featuring my designs.
BT: That's absolutely excellent Nicodemus! Well, the very best of success in your future endeavors and thank you so very much for taking the time to sit and discuss one of the most prominent and popular bacon stories of the current decade, the "Bacon Is Like A Little Hug From God" T-shirt. Thank you Sir!
NG: My pleasure. It's been a lot of fun!
Categorized in: Bacon News