BLT's are one of our favorite ways to eat bacon. And yeah, we know that sounds pretty boring, but come on, they are just so freakin' delicious! One day we were brainstorming some new BLT recipes, and our fantastic CEO Rocco "Boss Hog" Loosbrock, came up with this genius idea. How simple, but oh man, how delicious! Now you can have a BLT with twice as much bacon that's not a complete mouthful.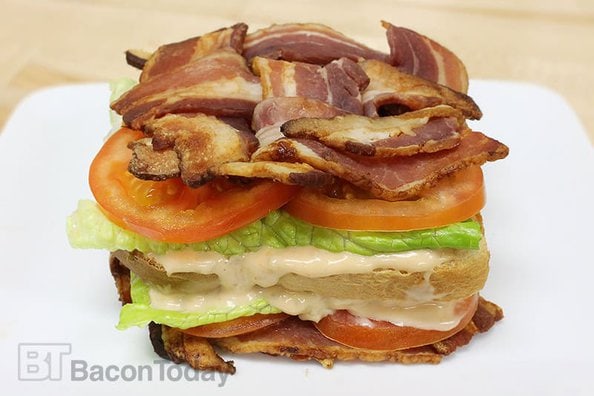 Inside Out BLT Ingredients
6 thick cut bacon strips
1 piece of white bread
1 tomato, sliced
Iceberg lettuce
Condiments of your choice
Line a baking sheet with foil, set side. Do not preheat the oven.
Cut your 6 bacon strips in half so that you have 12 half-slices. Assemble them into two mini bacon weaves. Place on a foil-lined sheet and put in the oven. Heat the oven to 375° F and cook for 20-25 minutes while the oven heats. When finished, transfer to a paper towel-lined plate and pat-dry any excess grease. Let your bacon cool for a few minutes before creating your Inside Out BLT masterpiece.
To assemble your BLT, start with one mini weave, then add 1-2 tomatoes and another leaf of lettuce. Spread your desired condiments on one side of the bread and place condiment-side down onto the lettuce. Spread more condiment on the other side of the bread. Top with a leaf of lettuce, more tomato, and the other mini weave.
Enjoy!