The season premiere of Mad Men is on April 13th. It's also the last season premiere, a fact that makes many Bacon Today staff very, very sad. Many things have contributed to the success of the show, like its excellent writing and Don Draper's smoking-hot looks. We've put together a bacon advertising post as homage to the show that has revitalized interest in the history of advertising.
If there's one thing that vintage bacon ads tell us, it's that not much has really changed regarding America's favorite meat candy. Bacon is shown as a campfire favorite, a hangover helper, the duct tape of food, and as something that can be added to just about any other food to make it better. So mix yourself an Old Fashioned and take a nostalgia trip by checking out these retro bacon ads.
Bacon is a Hangover Cure?
This ad from 1920 advised consumers to "Start the New Year right." In other words, lose the New Year's Day hangover with a bacon sandwich.
Bacon & camping
Long before REI, bacon was the meat of choice for cookin' up around the campfire. Luckily this hasn't changed, but thankfully camping clothes have. Can you even imagine setting up camp in a dress and heels??
Wrap it in bacon!
Bacon-wrapped meatloaf and bacon-wrapped hot dogs. Still delicious and still popular. This first one looks like a Bacon Explosion forerunner.
Not so sure about these bacon-wrapped sweet potatoes on pineapple slices, though… Perhaps in 1928, this was considered haute cuisine.
If anyone can tell us what is in this 1946 ad, please do so!
Make it better with bacon!
Bacon's appeal was used to sell other foods and make foods that are unappealing to some people more edible. Like, canned sauerkraut. Check out these Bacon-Wrapped Kraut Kabobs. Eww…
Bacon: it's what's for breakfast.
Serving bacon with French toast and pancakes is just as popular as it ever was. Check out these sweet "Bacon Logs" that are made by stacking pieces of French toast and bacon strips, and the classic short stack served with bacon.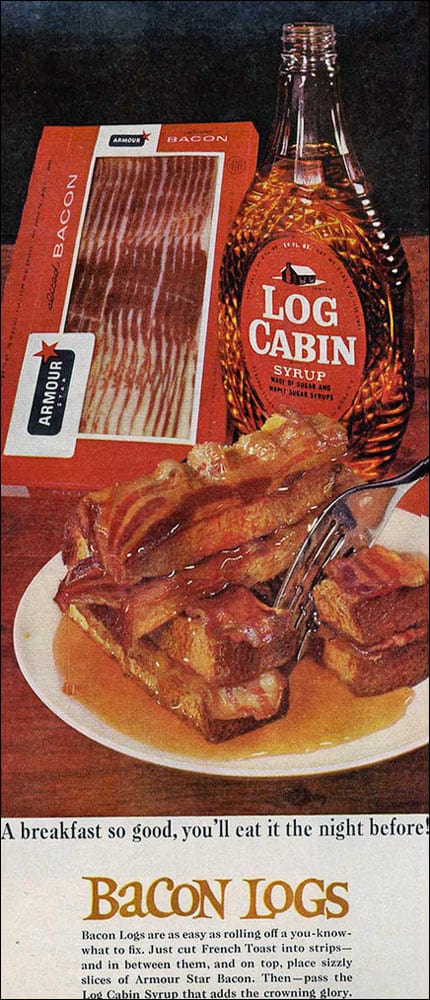 Bacon is good protein.
The debate on whether bacon is healthy will go on and on, but few can debate the fact that the protein and fat in bacon will keep a person full for hours. "Bacon is the savory, flavory way to spark the brighter breakfasts that nutritionists tell us active minds and bodies need." And yet, the bagels vs. bacon debate still goes on.
Is that you, Peggy Olson?
Who stole the bacon? Advertisement
Bacon theft was a common theme in bacon advertising. Kids stole it, and blamed it on the dog. Dads stole it, and blamed it on the kids. And bacon theft still happens to this very day.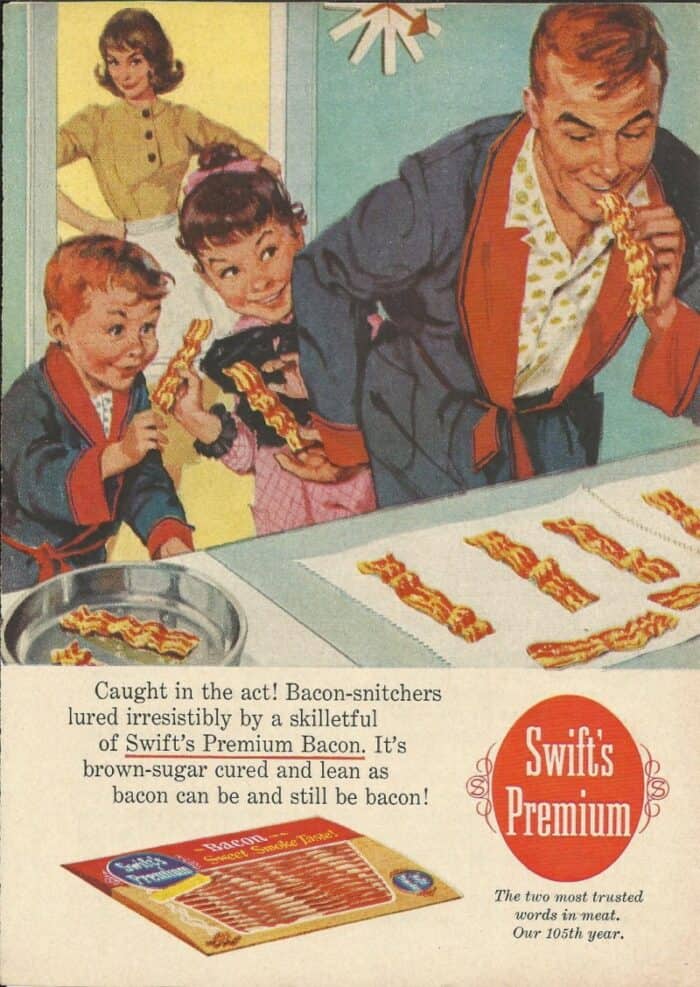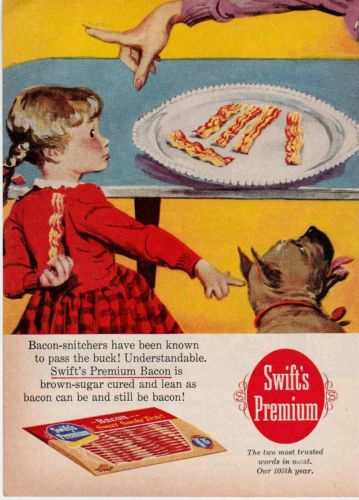 Bacon & Patriotism Advertisement
1940's bacon advertising couldn't help but reference WWII. This ad mentions the advances made in packaging that allowed soldiers to receive canned bacon.
This 1946 ad from Swift's refers to food rationing and mentions "dark days and bright" and "in peace and in war." With food rationing going on, consumers wanted to be assured that there was equal access to bacon.
Smoky Bacon Advertisement
The smoky taste of bacon is why we love it so. The smoke from the campfire indicates "that heavenly sweet smoke taste."
How it's smoked. Swift "ovenized" bacon advertisement.
"It's Ovenized!" was Swift's marketing slogan that let customers know about their improved smoking techniques.
Bacon in Cellophone Advertisement
New-fangled inventions like cellophane allowed customers to see what they were getting.
It's hard to wait for bacon – Wilson bacon advertisement
Not much has changed since 1955. No one likes waiting for da bacon!
Toaster Bacon Advertisement
One thing that hasn't endured (thank god!): toaster bacon. 'Nuff said.
Bacon for Holiday Meals Advertisement
This ad for "Rose Brand" bacon recommends eating the classic "bacon and eggs" breakfast on Easter Sunday.
Swift Bacon Girl in Chef Hat Cooking Advertisement
Image heavy and light on copy, this early bacon ad features a cherubic child and the simple motto, "Worth hunting for."