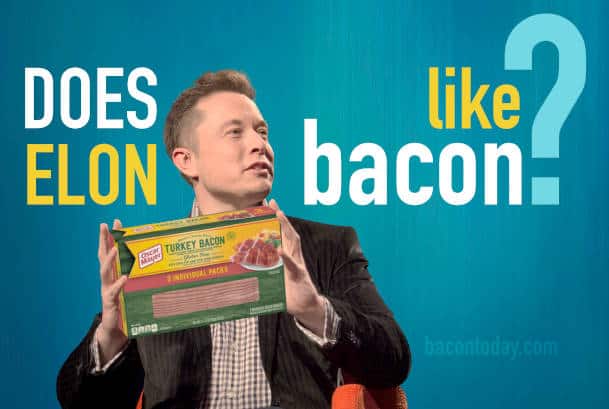 As we were searching the bacony archives of the interwebs for the answer to the question "does Elon Musk like bacon?", our digital archeologists discovered that back in the year 2017, world-famous billionaire Elon Musk posted this cryptic series of messages on the website he now owns, Twitter (er, X?)…
On June 22, 2017 Elon Musk wrote: "In life, there are no easy choices."
Twitter user @WaywardPlane immediately made the incredibly astute retort, "Bacon. Bacon is ALWAYS an easy choice."
To which Mr. Musk quickly replied, "Damn, I forgot bacon".
A person could easily infer that Elon was implying that he does in fact like bacon, but anyone who has followed Elon Musk's posts on Twitter over the years knows that he has a penchant for stirring up a little controversy here and there. So we had to dig a bit deeper. Does Elon Musk like bacon, or is he just prone to use bacon's polarizing virtues to stir that digital pot?
Twitter user @Baconaholic posed a very important question on Elon Musk's thread:
"When thinking about how far you've come with payments, solar, electric vehicles, rockets, AI, etc… What's your favourite type of bacon?"
This was a very fair and astute question by Baconaholic, but one to which Mr. Musk curiously did not reply. The mystery continued.
After considerably more sifting through the archives of the internet, our diligent research team discovered this photo that Steve Jurvetson, co-founder of Future Ventures (venture capital firm with investments in SpaceX and Tesla) posted on September 12, 2012. It appeared that we were one step closer to answering the question: does Elon Musk like bacon?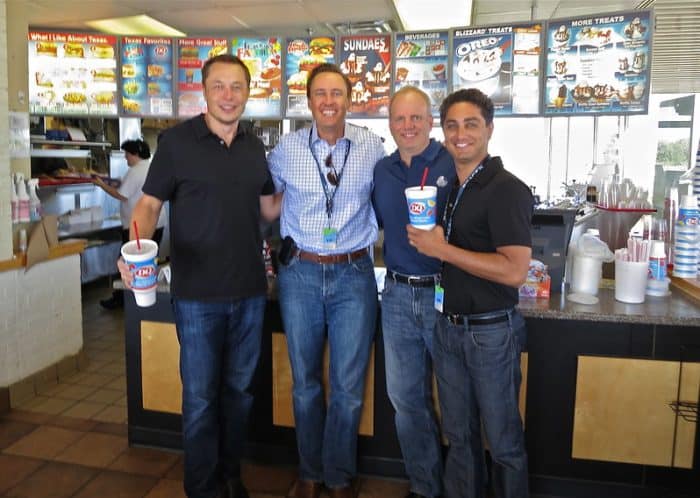 Mr. Jurvetson stated that the team had Hungr-Buster® Burgers from Dairy Queen. Now, the Hungr-Buster® appears to be a regionally-specific offering around Texas that consists of a 1/4 lb. grilled beef patty topped with crisp lettuce, ripe tomatoes, purple onions, tangy pickles and bold yellow mustard. And Mr. Jurvetson also noted that they added jalpeños and bacon to the burgers.
Are We Any Closer to Knowing Does Elon Musk Like Bacon?
Did that mean Elon also enjoyed some bacony goodness on his tasty Dairy Queen burger? Possibly, but we have thus far been unable to confirm whether Mr. Musk shares our love of nature's meat candy, bacon. Maybe someday he'll grace our collective Twitter feeds with the once-and-for-all answer to this important question. Until then, we'll just have to wonder.
Now, we know some of the bacon purists out there will question whether Dairy Queen serves "real" bacon. Fast food bacon is always a controversial topic.
Here at Bacon Today we try not to limit the scope of bacon lovers' pork preferences, so we will leave it up to you to determine whether Elon Musk eating a burger with bacon at a Dairy Queen truly answers the question: does Elon Musk like bacon? Please let us know your thoughts in the comments below.