Did you know that August 20th is National Chocolate Pecan Pie Day? Having National Pecan Pie Day just wasn't enough. 'Merica had to come up with CHOCOLATE Pecan Pie Day… Heck yeah we did! I wonder how long we'll have to wait until National Bacon Chocolate Pecan Pie Day is declared?
Because believe it or not, bacon, chocolate, and pecan pie go together like peas, carrots and Forrest Gump. This pie is filled with layer upon layer of wonderful, sweet and savory flavors. All this nutty, bacon-y, chocolate-y goodness starts with a flaky, buttery crust. Next comes our variation on a traditional pecan pie filling. Adding semi-sweet chocolates, candied bacon, AND smooth bourbon to our toast pecans gives this pie a "Yeah, baby!" flavor explosion. Top this dreamy pie with a dollop of Chocolate Whipped Cream for a pie that is perfection on a plate.
Basic Pie Crust:
1 1/4 cups all-purpose flour
1/2 teaspoon salt
1/2 teaspoon granulated sugar
1/2 cup cold unsalted butter, cut into pieces
2 – 4 tablespoons chilled water
Chocolate Bacon-Pecan filling:
3 large eggs
3/4 cup packed dark brown sugar
2/3 cup light or dark corn syrup
1 teaspoon vanilla extract
1/2 teaspoon salt
2 tablespoons melted butter, salted or unsalted
2 tablespoons bourbon
1 1/3 cups toasted pecans, lightly chopped
1/2 cup chopped, candied bacon
3/4 cup semisweet chocolate chips
Chocolate Whipped Cream:
1/2 teaspoon bourbon vanilla extract
3 – 4 tablespoons confectioner's sugar (or more to taste)
2 tablespoons unsweetened cocoa powder
1 cup cold heavy whipping cream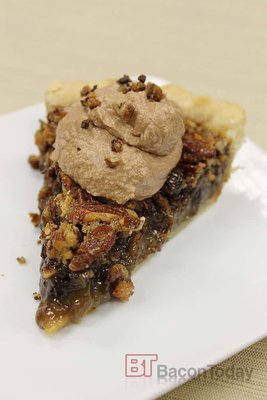 1. Using a food processor or pastry blender, combine flour, salt, and sugar. Add in butter and combine until mixture resembles coarse meal. Sprinkle with 2 Tbsps. water and continue mixing until the dough is crumbly, but holds together. (Add 1 Tbsp. additional water if necessary).
2. Flatten dough into 1″ thick disk and refrigerate for about an hour. You can prepare your other pie filling and whipped cream while you wait.
3. Preheat the oven to 375ºF and position the oven rack in the center of the oven.
4. In a large bowl, whisk together the eggs, brown sugar, syrup, vanilla, salt, melted butter, and bourbon.
5. Stir in the pecans, candied bacon bits (learn how to make candied bacon HERE), and the chocolate chips. Set aside.
6. Using a chilled whisk, stir together vanilla, sugar, cocoa powder, and 2 Tbsps. of cream in a chilled mixing bowl to form a thick paste.
7. When the cocoa powder is dissolved, add the remaining heavy cream and beat until stiff peaks form. You may also use a hand mixer (be sure the beaters are chilled).
8. Refrigerate covered until ready to serve.
9. Place your pastry dough on a floured surface and roll dough into a 14-inch circle with a floured rolling pin. Place your dough into a 9″ pie plate and gently fit into the bottom and up the sides of the pie plate.
10. Scrape the pie filling into the pie shell and bake for 35 to 40 minutes, or until the filling puffs up slightly but still feels slightly jiggly and moist in the center.
11. Let pie cool completely before slicing. Serve with a dollop of chocolate whipped cream and a sprinkling of chopped candied bacon.
A pie complete with bacon and booze. Alas, a pie that the great Dean Winchester would go to hell and back for.