October 14, 2016 1:28 am
2 Comments
Jump to recipe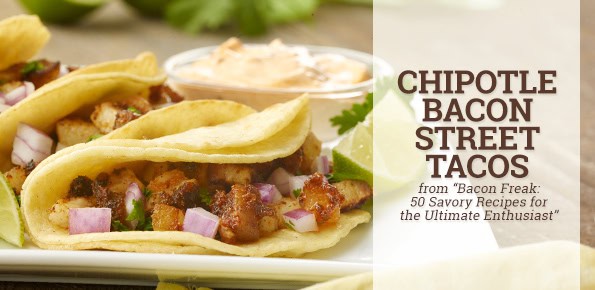 Chipotle Bacon Street Tacos
This Chipotle Bacon Street Tacos recipe is one of 50 delicious recipes in "Bacon Freak: 50 Savory Recipes for the Ultimate Enthusiast".  These street tacos demand to be made for your next tailgate party. The chipotle rub imparts an addictive, smoky spiciness to the bacon and the creamy cilantro sauce cuts the spice.
Diggin' this bacon recipe? Order a copy of "Bacon Freak: 50 Savory Recipes for the Ultimate Enthusiast" for even more delicious recipes that any home cook can make.  Filled with fun infographics, the book also suggests the best booze pairings, offers information on curing your own bacon and cooking it perfectly, and includes a handy reference section covering must-visit bacon festivals, food trucks, and restaurants.  Here's everything you need to get your bacon freak on!
Chipotle Bacon Street Tacos
Ingredients
For The Chipotle Rub
2 chipotle peppers in adobo sauce,
finely chopped
4 teaspoons each ground cumin,
garlic powder, onion powder,
paprika, brown sugar
For The Tacos
2 pounds slab bacon
20 small corn tortillas, warmed
1 medium onion, chopped
1 bunch cilantro, chopped
chipotle rub
creamy cilantro sauce
For The Creamy Cilantro Sauce
1 cup sour cream
1 chipotle pepper, chopped
1 bunch cilantro, chopped
Juice of 1 lime
1 clove garlic, chopped
1 teaspoon salt
Instructions
Prepare the chipotle rub by mixing all ingredients together until well combined.
To make the cilantro sauce, combine all ingredients. The mixture should be just thin enough to pour.
Dice the slab into chunks and coat with the chipotle rub. Place in a large skillet and cook over medium-low heat for about 15-20 minutes until bacon chunks are cooked through and start to
caramelize. Serve a heaping spoonful of chipotle bacon on each warmed corn tortilla, topped with a sprinkling of onions, cilantro, and a drizzle of creamy cilantro sauce.
From the World of Sweet, Sweet Bacon.
This recipe is property of Sterling Publishing Co., Inc. and Bacon Freak LLC. It may not be copied or distributed without permission from either party.
Categorized in: Bacon Recipes, Bacon Books, Bacon Reviews