August 10, 2015 2:05 am
Leave your thoughts
Chicken and Bacon Enchiladas
This recipe from Holly Clegg is a healthy, bacony spin on traditional enchiladas. With over 1 million cookbooks sold, Holly Clegg has become a culinary expert on easy, healthy and practical recipes through her best-selling "Trim & Terrific" cookbook series, including the more targeted health-focused cookbooks, Diabetic Cooking with the American Diabetes Association, Eating Well Through Cancer and Eating Well to Fight Arthritis. Clegg has appeared on Fox & Friends, NBC Weekend Today, QVC, The 700 Club, USA Today, Web MD and The Huffington Post. For more information, visit www.hollyclegg.com or thehealthycookingblog.com for more recipes and tips.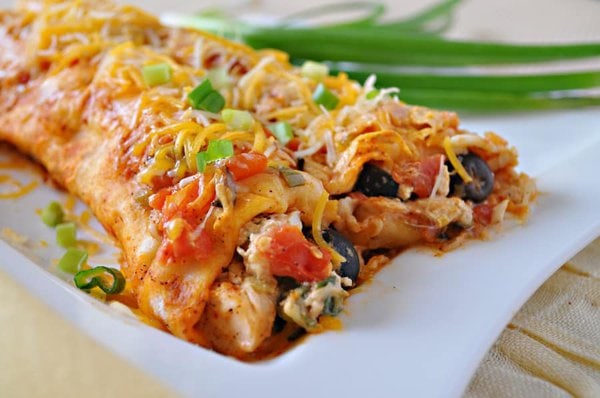 Chicken and Bacon Enchilada Ingredients
MAKES 6 (2 enchilada) SERVINGS
1 1/4 pounds skinless, boneless chicken breasts
3 slices bacon
1/2 teaspoon minced garlic
1 1/2 cups salsa, divided
1 (15-ounce) can black beans, undrained
1 red or green bell pepper, seeded and chopped, optional
1 teaspoon ground cumin
Salt and pepper to taste
1 bunch green onions, chopped
12 (6-8-inch) flour tortillas
6 ounces reduced-fat Monterey Jack cheese, shredded
Directions
1. Preheat oven 350ºF. Cut chicken into chunks; set aside.
2. In skillet, cook bacon until crisp. Remove bacon to paper towel to soak any excess grease; discard any grease in skillet. In same skillet, coated with nonstick cooking spray, sauté chicken and garlic until chicken is almost done, 5-7 minutes.
3. Stir in 1/2 cup salsa, the beans, bell pepper, cumin, salt, and pepper. Simmer until thickened, 5 minutes, stirring occasionally, or until chicken is done. Stir in green onions and reserved bacon.
4. Divide chicken-bean mixture among 12 tortillas, placing mixture down center of each tortilla. Top with 1 tablespoon shredded cheese. Roll up and place seam-side down in 13 x 9 x 2-inch baking dish coated with nonstick cooking spray.
5. Spoon remaining 1 cup salsa evenly over the enchiladas. Top with remaining cheese. Bake 15 minutes, or until thoroughly heated and the cheese is melted.
Nutritional information per serving: Calories 455, Protein (g) 40, Carbohydrate (g) 50, Fat (g) 8, Calories from Fat (%) 17, Saturated Fat (g) 4, Dietary Fiber (g) 6, Cholesterol (mg) 73, Sodium (mg) 1326 Diabetic Exchanges: 4 lean meat, 3 starch, 1 vegetable
Categorized in: Bacon Recipes