I love infographics. Some of you might be wondering, what is an infographic? Lucky for you, there's an infographic for that!
The best infographics are those that visually convey information so that it's easy to grasp the themes, meanings and definitions. The best ones are remarkably creative and visually stunning. I'll go so far as to describe infographics as 21st century art forms that historians will later define as early iconic imagery of the Information Age.
And there are plenty of bacon fans creating plenty of infographics about everyone's favorite meat candy. I've rounded up this list of the Best Bacon Infographics. They'll teach you something about bacon you didn't already know, in a fun and visually interesting way. Leave a comment and let us know which one is your favorite!
Here's why bacon tastes good. 'Nuff said, infographic.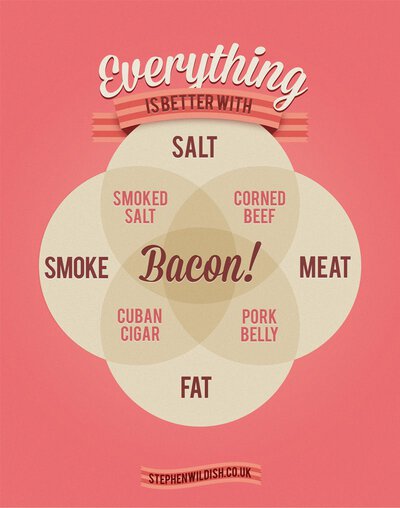 Planning an overseas vacation? Want to order bacon while you're there? Check out this infographic and learn all about bacon's cultural differences.
Got a hater always on your case about why bacon is bad for you? Send 'em this infographic on the health benefits of bacon!
This bacon infographic is about actual bacon dishes, so I have to love it, even though it doesn't include my town, Los Angeles. But a quick glance at this and I know where to get the bacon the next time I'm traveling.
Ram Trucks designed this infographic to show how bacon supports the United States economy.
This infographic conveys 17 fun tid-"bits" about bacon. And, Bacon Today is included in the footnotes!
This infographic compares the popularity of both kittens and bacon across various social media outlets. In an Epic Meal Time vs. Grumpy Cat battle, who's the winner?