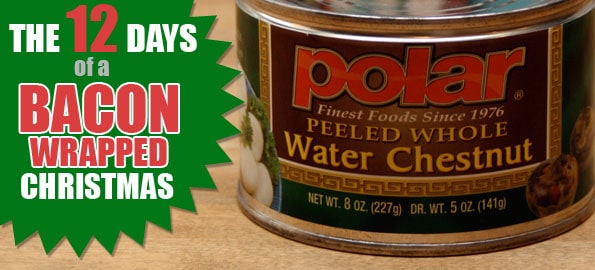 Day 2 of "The 12 Days of a Bacon-Wrapped Christmas" brings us bacon-wrapped water chestnuts.
After the long days of toiling over a hot stove and elbowing your way through a sea of last-minute shoppers, a light and tangy appetizer is probably all you can muster the energy to cook. Well you're in luck. Here's a quick and easy treat that is sure to put a smile on your face the day after Christmas.
Start your cooking with a can of whole water chestnuts, some Worcestershire sauce, lemon juice, and sour salt.
Mix 1 tablespoon Worcestershire sauce and 2 tablespoons lemon juice in a small bowl. Add sour salt as needed (we used about 1 tablespoon). Marinate the water chestnuts in the mixture for at least 15 minutes.
Get your bacon ready. We used Oscar Mayer Center Cut bacon for this recipe.
Pre-cook your bacon to a soft consistency. We used the WowBacon microwave bacon cooker which works great to getting bacon pre-cooked prior to oven cooking.
Once you've pre-cooked the bacon (we microwaved it for about 1 minute 30 seconds), cut the bacon strips in half and wrap the bacon around the marinated water chestnuts and put in a pre-heated broiler at about 400 degrees. You may want to secure the bacon horizontally with toothpicks through the water chestnuts. Cook for about 3 minutes per side.
The final result is a tart & tangy treat for the tastebuds with a hearty Smaste™ rating of 39.985. The rating may have been over 40 if the water chestnuts were marinated just a bit longer.