January 25, 2016 3:33 am
Leave your thoughts
Jump to recipe
Bacon Peanut Butter Burger
Looking for an unusual burger recipe to serve your guests for Memorial Day? Look no further! This Bacon Peanut Butter Burger recipe is just the thing you need to pique your guest's curiosity and taste buds. While it might sound too weird at first, peanut butter is actually the perfect complement to bacon and burgers! It's creamy texture and slightly sweet flavor counterbalances bacon's salty crispiness. So celebrate with these delicious burgers. We suggest using black pepper bacon on these burgers but feel free to substitute your favorite kind. This recipe is from Hormel Bacon.
Bacon Peanut Butter Burger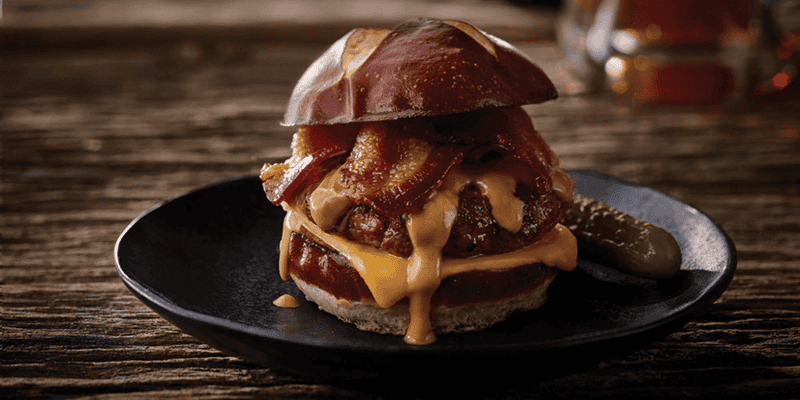 Ingredients
1 pack Black Pepper bacon
1 pound ground beef
1 teaspoon salt
1 teaspoon pepper
4 ounces sharp cheddar cheese, sliced, if desired
3/4 cup SKIPPY¬ creamy peanut butter
4 whole wheat buns, toasted
Instructions
1. Heat grill to medium-high heat.
2. In large bowl, combine ground beef, salt and pepper.
3. Form beef into 4 patties and grill to desired doneness.
4. Top burger patties with 2 slices cheddar cheese, if desired.
5. In microwave oven, warm peanut butter 30 seconds.
6. Place burger patty on bun. Spread warmed peanut butter on top of patty generously.
7. Top with 2 to 4 slices bacon and add burger bun.
From the world of sweet, sweet bacon.
Categorized in: Featured, Bacon Recipes