March 28, 2016 1:01 am
Leave your thoughts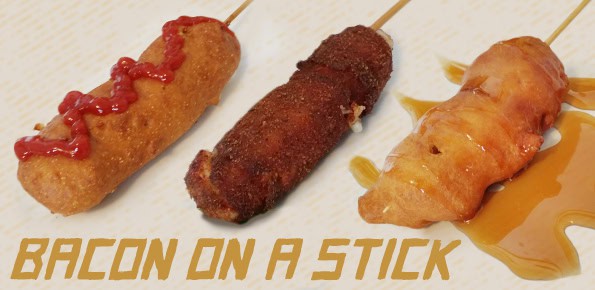 These recipes were submitted by one of our super bacon fans. Staff Sergeant Brian Morelli has been in the Army for 12 years. He has deployed to Iraq twice and works as a Cyber Warfare Specialist.
As if that's not impressive enough, he also enjoys making homemade mozzarella and growing fresh herbs and vegetables in his garden. You know, in his spare time, when he's not out making the world a better, safer place. Yeah, we're crushin' on Brian. Just a little.
Brian has shared three of his favorite ways to cook with bacon on a stick.
Who doesn't love a good "on a stick" recipe? And bacon on a stick represents the very best of the "on a stick" possibilities. These recipes are all perfect for football season. You'll need some tasty bacon for these ideas, so grab some bacon here.
Let's take a look at three ways to use bacon on a stick to make some amazingly delectable meals.
1. Deep Fried Chicken and Waffles on a Stick
Brian says, "Take a deep-fried, boneless chicken breast strip, wrap it in bacon and dip it in pancake batter with a maple syrup drizzle."
We say that deep fried loveliness looks even more delicious slathered in honey.
2. Bacon-Wrapped Corn Dog on a Stick
Brian says, "It's a bacon-wrapped hot dog dipped in corn bread batter, then deep-fried. I add curried ketchup."
Brian, you had us at deep-fried, but you truly won us over with curried ketchup.
3. Bacon and Mozzarella on a Stick
Brian says, "I use my homemade mozzarella, wrapped in bacon and bread crumbs. I serve it with a homegrown Roma tomato and basil bruschetta. I grew the veggies and herbs in my garden and made the cheese from scratch."
Many thanks to Brian for these fantastic submissions!
OMG that's a lot of bacon! *Swoon*
Categorized in: Bacon News