February 1, 2016 2:01 am
Leave your thoughts
Jump to recipe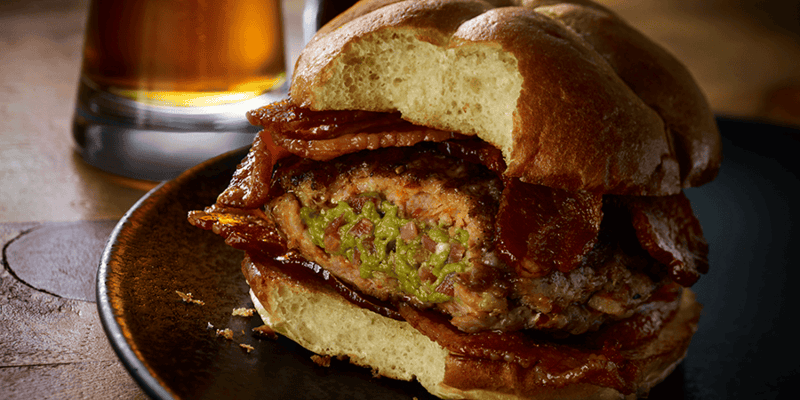 Ingredients
6 slices Applewood bacon
1/2 cup guacamole dip
1 pound ground Italian sausage
4 hamburger buns, split
Salsa, if desired
Instructions
Prepare grill for high heat.
Prepare bacon according to package directions; drain. Crumble bacon.  Stir crumbled bacon into guacamole dip.
Shape sausage into 8 thin patties.  Top 4 patties with bacon mixture; cover with remaining patties.  Pinch edges together to seal.
Place burgers on grill. Grill 6 to 7 minutes on each side. Fill buns with burgers.  Serve with salsa, if desired.
Bacon Guacamole Sausage Burger
This recipe is from Hormel.com. These bacon guacamole sausage burgers are a GREAT Memorial Day BBQ recipe! Stuffing the burgers with guacamole delivers the "wow" factor to your burger game. And the sausage patty is a porktastic twist on a traditional beef burger. Made with Wholly guacamole, these burgers are easy to make. Add your favorite bacon, cheese, buns and condiments and you've got a game day burger that is sure to impress!  To see more bacony good recipes, go to Hormel.com.
From the World of Sweet, Sweet Bacon
Categorized in: Featured, Bacon Recipes